Tucked away in the North Vaughn area of Gig Harbor, this dynamic custom residence is a dream come true! Ideal for secluded living, entertaining, and absolutely brimming with outdoor space to explore and cultivate, this incredible opportunity is just waiting for you to transform it into your ultimate vision of home! Discover 4,522-square-feet of gorgeous space to live in, complete with 4 bedrooms, 4.25 baths, a potential MIL unit, and much more. Outside, even more top-notch amenities await—RV parking with hookups, a circular driveway with a thru garage, a greenhouse, garden, chicken coop, and a sport court are all in the mix. Located at 13528 176th Ave Kpn Gig Harbor, WA 98329, this Pacific Northwest gem is listed for $600,000.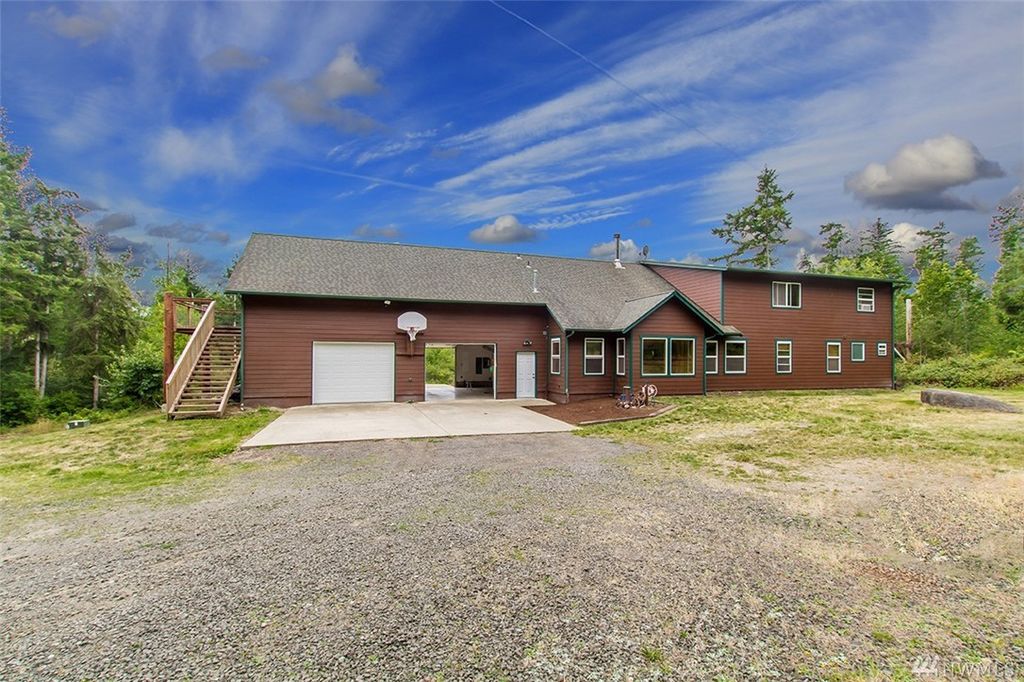 Built in 2005, this home's current owners have truly loved and cherished this special residence for 12 years now: "As a young family, we were drawn to the location for the opportunity to build a home that would suit our family as well as create an atmosphere where the children could enjoy being outdoors with plenty of room to roam in a safe environment. Our home would be well-suited for those that may have animals and need farm space, or those with children and need the space to roam. We have often thought that it could have been a great place for a B&B. This property and home would be perfect for those that have horses as all it would need is a fenced pasture and a stall or two."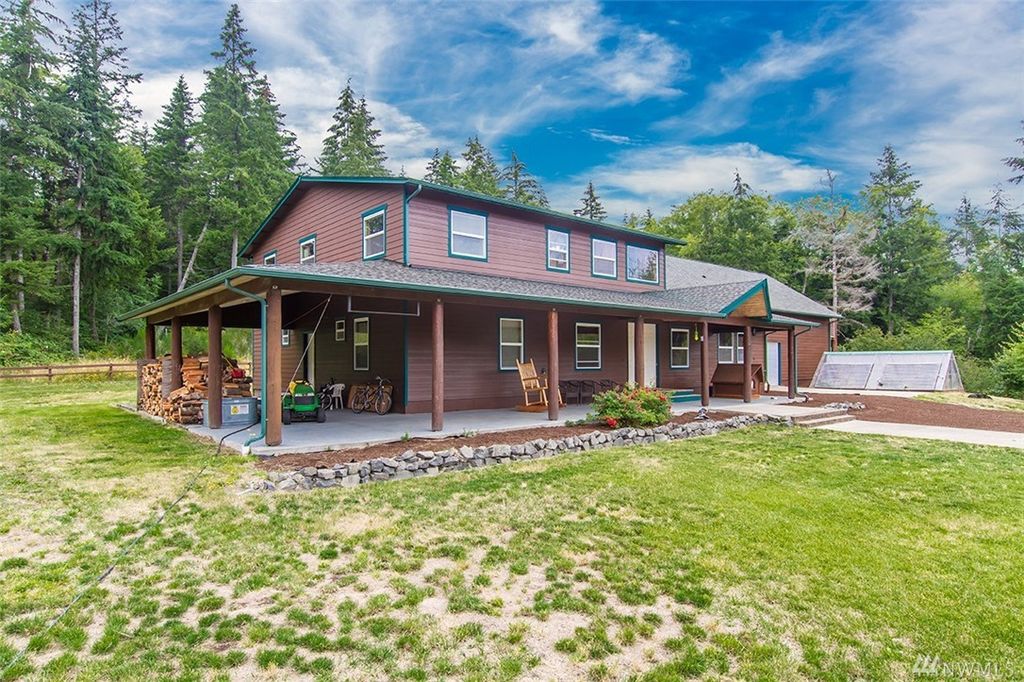 For those who love spending time outside, this property's current amenities and potential promise a lifetime of fun, play, and outdoor enjoyment! An incredible 1,400-square-foot wrap-around covered porch is just the beginning, and here you'll find plenty of space to store firewood, relax, entertain and more whether rain or shine! Tall trees and lush foliage offer a tranquil view, and there's not another house or structure in sight. Enjoy having plenty of parking that includes a long driveway away from the main road (with a custom gated entry), a thru garage (ensuring you don't have to deal with backing up), as well as RV parking with hookups.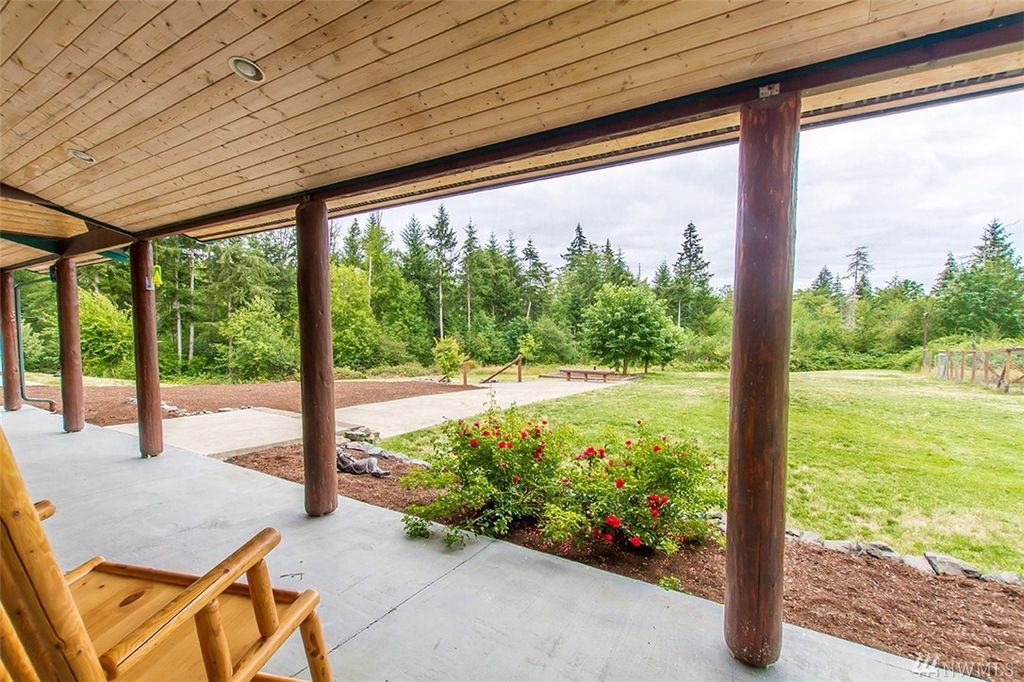 Dream of enjoying fresh produce, or raising farm animals? There's space for that, too! A greenhouse and garden await your green thumb, while a chicken coop and ample acreage to roam in offer plenty of space for animals to graze and explore. Plus, a sport court just adds to the opportunities for staying active and having fun!
The incredible residence is replete with a blend of rustic and modern style, in addition to premium amenities and conveniences. In the main living areas, soaring ceilings, concrete radiant floors, and huge timbers create a warm, lodge-inspired aesthetic that provides the ideal scene for spending time with loved ones. "The kitchen has a large, open area providing an atmosphere that encourages conversation while cooking and entertaining," share the current owners.
An expansive layout ensures there's plenty of storage and countertop space for meal prep, and bar-style seating alongside a sunny dining area offer welcoming opportunities to enjoy a cup of coffee or a full sit-down meal. Like the rest of the home, natural light cascades in through large windows, contributing to the cheerful, inviting scene all while offering stunning views of the Pacific Northwest's signature landscape that stretches into the distance.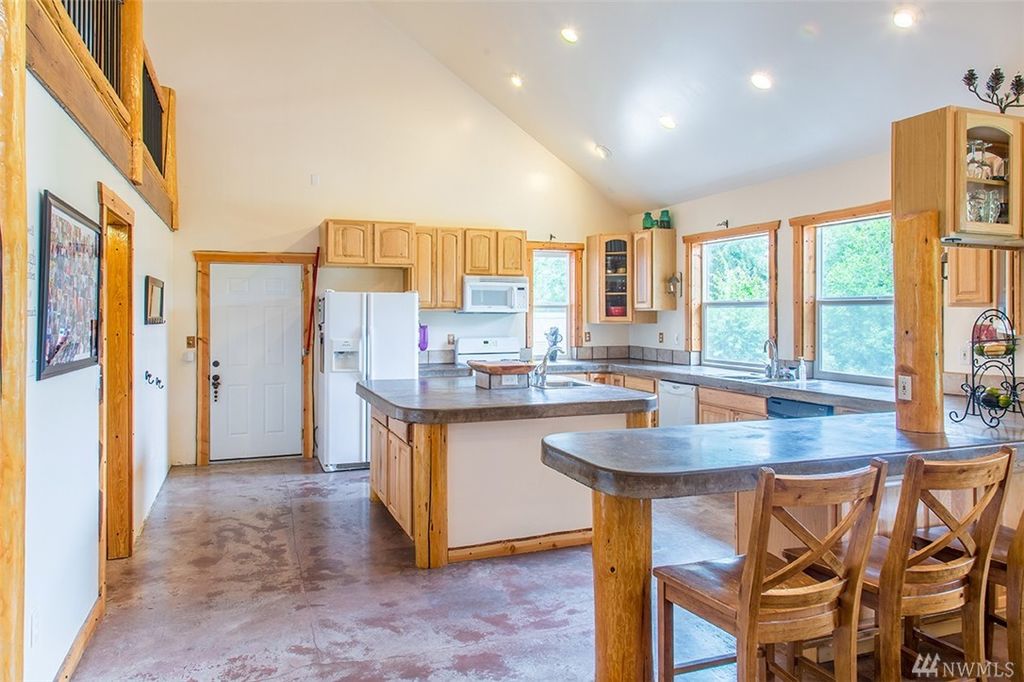 Living areas feature cozy carpet alongside hardwoods, and exquisite built-in window seating and a wood burning stove are just a couple of this haven's standout features! Plus, the wood stove provides the heated water that runs through the radiant floor system: "With the wood stove option, you can either heat the entire home with wood, propane, or electric. We regularly use wood as it is so economical as well as cozy during those winter months," share the current owners.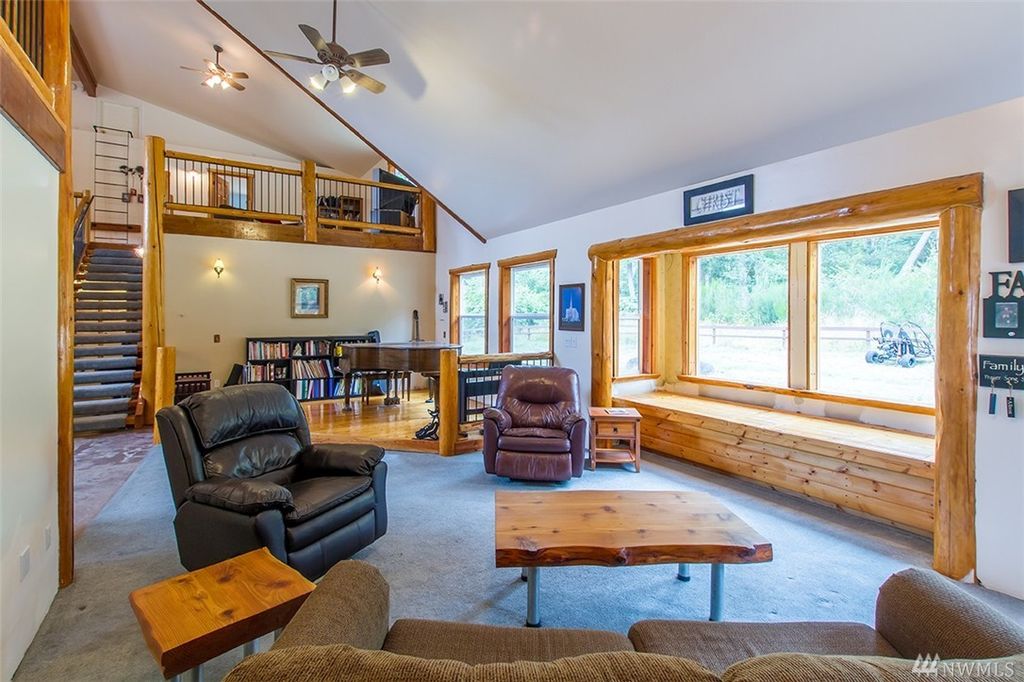 Even more space awaits in this home's 4 bedrooms, which includes 2 master bedrooms. One of the master bedrooms is on the main floor, and is conveniently handicap accessible. An upper bonus room is plumbed and ready to become a MIL unit, while a loft and craft room provide even more space to help you realize your unique vision of home!
Living in the North Vaughn Area of Gig Harbor
At 13528 176th Ave Kpn Gig Harbor, WA 98329, you're nestled in a truly idyllic location! This home's current owners originally selected this location for a few important reasons: "We came out to the area in 2004 after living in the city. Having a 10-acre parcel to build our new home was our goal and this acreage was perhaps one of the most beautiful that we found. We would be able to be close enough to family, stores, schools and other conveniences and still enjoy the benefits of a secluded and private place to retreat at the end of the day. We have been pleased with all of the schools in the area. We have some really good neighbors that keep an eye out for each other."
When you need to head into the city to run errands, Highway 16 is a 19-minute drive from home. From here, getting around the rest of Gig Harbor and visiting major shopping centers, the attractions of Downtown Gig Harbor, and more are quick and easy to access.
Interested in learning more? Click here to view the full listing! You can also contact REALTOR® Patty Golob online here or give her a call/text at (253) 223-5884.