Brimming with incredible amenities and stylish design, this Graham gem is wonderfully move-in ready! With upgraded appliances, A/C, a stunning outdoor oasis, and a spacious 1,827-square-foot layout that includes 3 bedrooms and 2.5 baths, this fabulous opportunity is truly a rare find. The current owners were initially attracted to this property because "It was clean, [in a] nice neighborhood, [had a] nice-sized yard, and [is] close to schools and shopping." Located at 9520 201st St E Graham, WA 98338, this one-of-a-kind treasure is listed for $300,000.
The current owners have been in this 2006-built home for 8 years now, and in addition to painting, they redid the entire yard. "The backyard is like living in a fairy tale!" says current owner Kelly Bryant. "I love this home and neighborhood. The backyard is probably my favorite. It's peaceful and very quiet."
It's no wonder why—this dreamy, resort-inspired backyard retreat features 2 dramatic, glistening pond-less waterfalls, a large paver patio and walkways, and a custom gazebo that's built for connecting and relaxing around your fire pit under the stars. Whether you're enjoying a quiet, peaceful evening relaxing or hosting a crowd for a lively weekend barbecue, this vacation-worthy backyard retreat is nothing short of magical!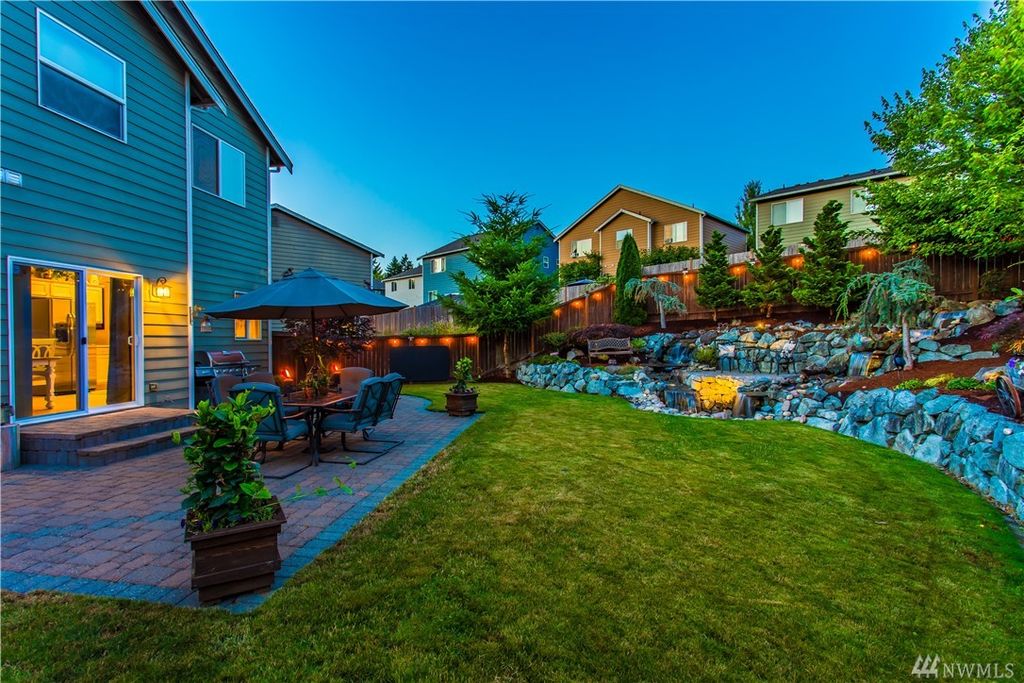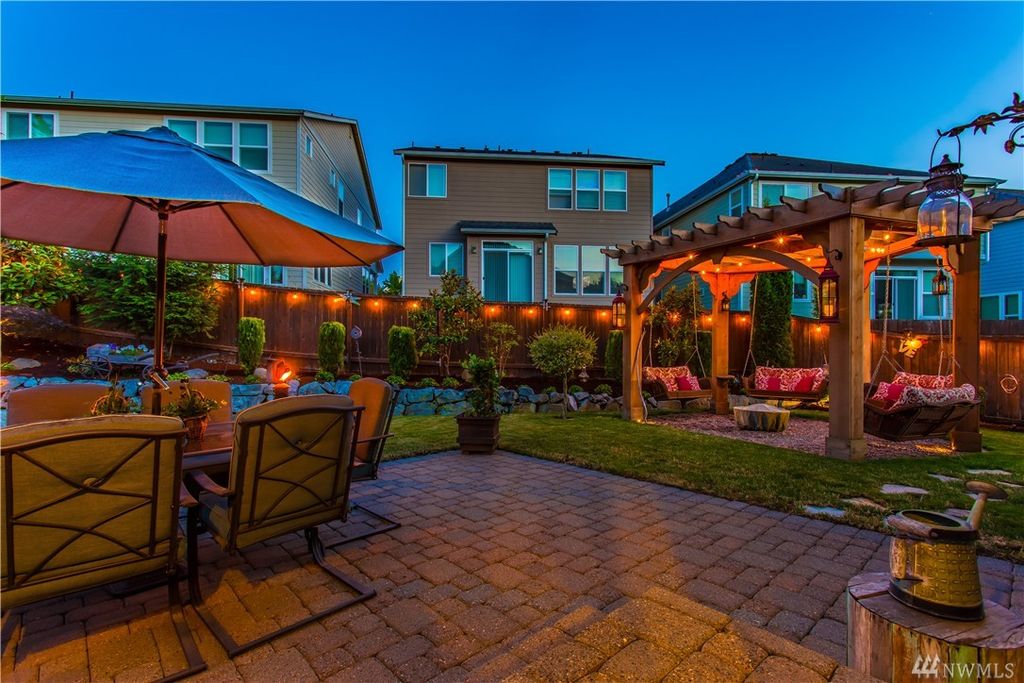 At the front of the home, an impressive, artful exterior offers a preview of the stylish spaces that await inside! Neat landscaping can be found alongside the exterior's Craftsman-inspired aesthetic, and the interior showcases contemporary style at every turn. Plush carpets and a warm, neutral color palette create an inviting atmosphere that's ready for your own unique decor and personal touch. In the living room, a beautifully accented gas fireplace serves as the focal point while promising cozy evening snuggled up on the couch for movie or game nights among loved ones!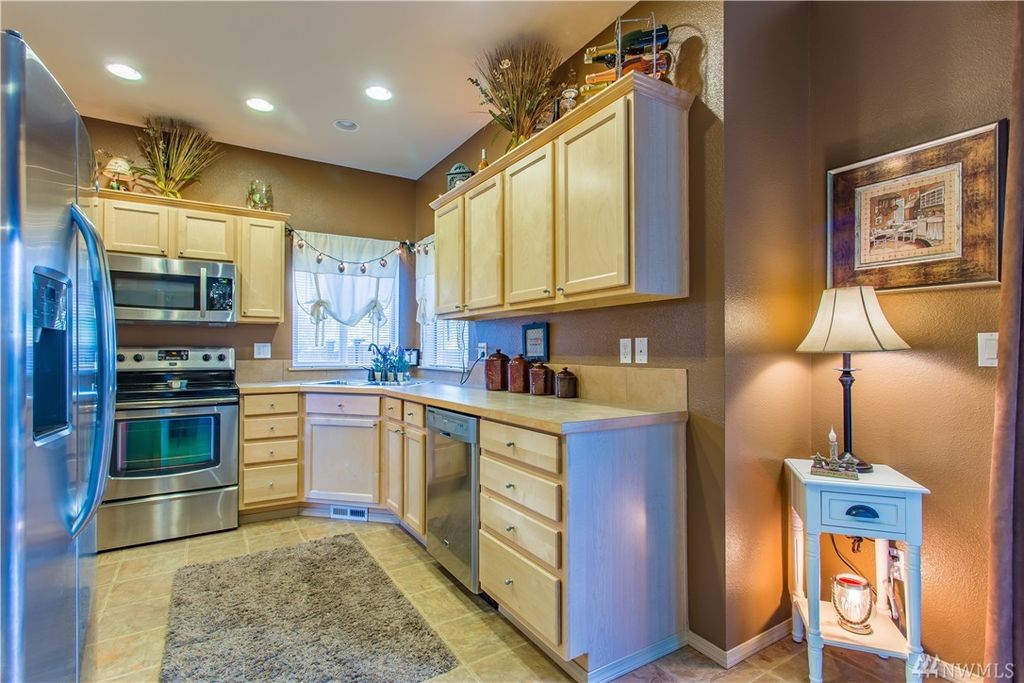 The welcoming layout flows right into the formal dining room, the kitchen, and the sunny dining nook. Enjoy hosting more formal meals or holiday get-togethers in the formal dining room, while the laidback dining nook is perfect for casual weekend brunches. The kitchen shows off a dynamic blend of elegance and efficiency—a smart design includes sleek appliances, and ample cabinetry for storage space.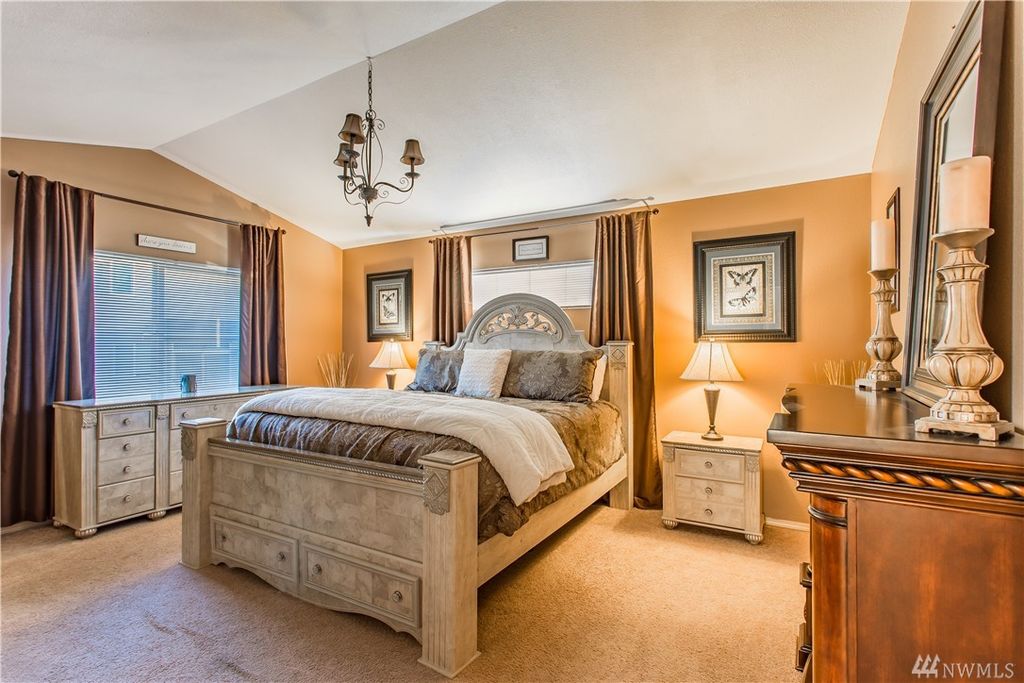 Discover ultimate comfort in this home's 3 bedrooms, each offering loved ones a private area to call their own. Among this home's many top-notch amenities, the master suite is especially of note—this luxurious sanctuary offers a sophisticated, relaxing atmosphere that's ideal for rest and rejuvenation! Plush carpets, a warm color palette, and a handsome fireplace create a cozy scene, and a 5-piece bath just adds to the convenience.
Living in Graham
At 9520 201st St E Graham, WA 98338, enjoy being in a central Graham location that's close to schools, parks, restaurants, grocery shopping, and more! "My neighborhood is close to Lipoma Firs Golf, it's about 15 minutes from Highway 512, it's close to Northwest Trek, and close to shopping," shared the current owner. Need to run errands or grab some dinner? Safeway, Walgreens, Rite Aid, Amici Italian Eatery, Culpepper's Bar & Grill, Sun's Teriyaki, Little Caesars Pizza, and much more are merely a 6-minute drive from home! Plus, the current owners absolutely love the neighborhood, and Kelly Bryant has nothing but good things to say: "It is truly the best neighborhood I have lived in. The neighbors are the best. We have great 4th of July get-togethers and random barbecues during the week. The kids love it here!"
Interested in learning more? Click Here to view the full listing! You can also contact REALTOR® Patty Golob online here or give her a call/text at (253) 223-5884.